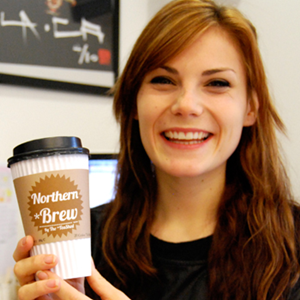 Jules Quinn is the founder and CEO of The *Teashed. She launched The *TeaShed in May 2011 just as she was finishing her degree in Fashion Marketing from Northumbria University. Jules came up with the idea whilst on a work placement where she was asked to make lots of cups of tea. She noticed how much more of a selection there was for coffee in the supermarkets as opposed to tea and yet lots of people in her office drank tea. The *Teashed offers a range of appealingly packaged, unique and quirky blends of tea – making tea "young and cool" again. In this episode, Jules shares some entrepreneurial tips from her four year business journey.

Download the interview.  "Right click and save as"
Validate your business idea
Jules suggests getting people to pay as a way of validating your business idea. Parting with cash is much more difficult than giving an email address or telephone number. If people aren't buying your product when you're hand-holding them through the sales process then it's likely going to be harder to convince them online. While there's no way to guarantee the success of a new business, there are a lot of things you can do to judge the viability of your new venture. The video below provides a few ways to do just that.
Connect with Jules
Thanks a lot for listening to today's episode, if you have any feedback, please share your thoughts in the comment section.
Ratings and reviews are extremely helpful in the ranking of the show, I'd really appreciate your honest rating and review on iTunes!
If you enjoyed this episode, please spread the love using any of the buttons below!